Arnaldo, the Argentine from Berlin, released (on renowned labels like Greta Cottage, Aim and Smallville) some remarkable records over the last years, full of deep music, be it House or Techno, and inspired arrangements. Now he comes up with his own label Naturist Recordings and its history begins (not that surprisingly) with music by himself. The four track EP "Good Music Hips, Bad Music Fists" turns out to be an exquisite start for Naturist Recordings as it is a beautiful piece of work, easy, natural and altogether carried by a certain lush flow. "Plumed Serpent", the first track, is a Deep House affair of an uplifting easiness, elegantly ambling along with soothing percussions and brightly swaying synth harmonies. "Precipitation" is equally deep, yet a little straighter, a little more reduced, the bass line pumping, the slight hint of melody hypnotically on repeat and all elements but together so well-nuanced and yet so effortlessly grooving you'll instantly fall in love.

With the third track Arnaldo adds one more to his list of flowery titles and gives us "Bringing A Knife To A Gunfight Since 1984". Actually knifes and gunfights are not the first things that came to my mind while listening but, though not especially violent, the atmosphere is in fact less sun-soaked and a little different from the first two tracks: rhythms are trickier, mysterious sounds whirl over punching beats and the tension is rising steadily, with morphing noises swelling and bubbling underneath the surface. Still it is not what you'd call dark or murky, Arnaldos production skills keep it all clear and transparent. "177 Downlow" as the last track also is kind of a slow burner, also built on shifting and oddly swinging rhythms, subtle and smooth, with whirring sounds slithering through the track like a snake through a summer meadow.



On "Good Music Hips, Bad Music Fists" Arnaldo shows a fine eye for details (and, if necessary, the absence details) and a natural enlightenment that makes his label start on a very high level. Excellent stuff! The second release on Natural Recordings is soon to come (as Arnaldo told us in the interview you can find below) and, while "Good Music Hips, Bad Music Fists" is playing for the fifth time in a row now, I'm quite sure we should be excited about that.

Written by João Geck

Interview with Arnaldo talking about his new label Naturist Recordings, the labels first E.P. (called "Good Music Hips, Bad Music Fists") and more. Questions by João Geck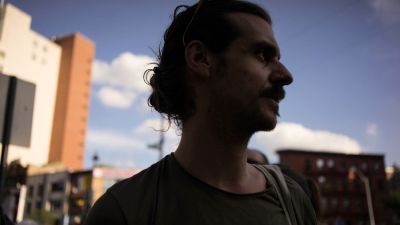 Q: Naturist Recordings is the name of your brand new imprint. Why your own label and why now?

A: I guess the real core of why now is I have a lot of music and was finding it difficult to find homes for them. So the thought came to me to start a label somewhere where I can curate every last detail of the release, not just the A&R but also the aesthetic and overall concept.

Q: The four tracks of the labels first E.P. (called "Good Music Hips, Bad Music Fists") sound warm and emotional. Is this kind of a signature sound for Naturist? And how important are such things as signature sound or corporate identity to you?

A: Each one will have a sort of theme linking them. This first one just included tracks I really liked. I guess the overall thing for the label will be that it will most probably touch on many different types of feelings.

A signature sound is of course nice as it separates people for the rest...something I think that is much needed at the moment. I guess we will all have to wait and see (including me).

Q: On "Good Music Hips, Bad Music Fists" your focus seems to be more on expressing the subtlety of things than on creating killer tracks for the floor, yet the tracks are still quite groovy. How important is the, well, danceability of your music to you?

A: If danceability to you is an overloud kick side-chained to a sub with an open hi-hat (not at all! J.G.) then my music is probably not for you. I prefer dancing within in a loop instead of skirting around just the kick and basic anchor percussion elements. You can dance to anything but it is about moving how you feel and not hellbent on chasing that kick. I guess it comes down to not really starting with a kick drum when I create music.

Q: It may be a quite obvious question but are you indeed a follower of the idea of naturism? And if so, what does it mean to you?

A: I guess I am a naturist when I sleep but I feel the cold terribly so clothing is god sent in Northern Europe. It is more the idea of being free whether that be free of clothing or free thinking. Being natural and of course be yourself that is what I take from it all.


Q: Last question: What's coming next on Natural Recordings?
A: Well the next installment will be out on March 17th, the e.p is called "Warning! One Track On This EP Contains No Kick Drum" and yep, you have guessed, one track has no kick drum :). Clips should be hitting the Naturist Recordings Soundcloud page very soon. Be natural x
Thanks a lot!