When Kompakt announced the release of a new album by GAS, for most of us it came as a surprise. Though the back catalogues competent (and extensive) re-release (Nah Und Fern 2009, GAS BOX 2016) and the occasional appearance of GAS remixes (highly noteworthy the recent (and in every way fantastic) adventure with Swedish pop star Robyn on "Who Do You Love") expressed Wolfgang Voigts intention not to let GAS disappear totally, a fifth album seemed quite unlikely as the legendary four albums from the late 1990s appeared to form such a perfect circle. Also with these albums now widely considered as monuments of electronic music an addition to these monuments of course meant quite a chance for failure, but Wolfgang Voigt has never been one to shy away from taking risks so here it is: Narkopop, the fifth GAS album, 17 years after Pop. And do the 17 years matter? Was the story already told? The circle really closed? Well, no. Is there a need for Narkopop? More than ever. Narkopop is a work like nothing else just as the other GAS records are works like nothing else. Wolfgang Voigt found a way to create this unique sonic empire and Narkopop fits in just naturally: a deep humongous forest impossible to explore in its entirety, however not hermetic but quite accessible (though it might take some effort). And with all the myriads of knob fiddlers trying to copy the sound of GAS over the last years the original has always been and still is miles and miles above them.

Narkopops first cornerstone is Narkopop II (the tracks, in good tradition, lack names), an 11-minutes-masterpiece of windswept strings ebbing and swelling over the muffled heartbeat bass drum that's so typical for GAS. The strings seem to drift aimlessly through these gigantic echo chambers, sometimes forming rudimental melodies but there's no hookline to follow, no clear path. It's an entrance to a world where things are hazy, diffuse and so many-layered you just gaze in wonder, there's gloomy darkness and threat as well as illuminations in unknown colours and strangely shimmering sunbeams. Not too far away from Voigts (also highly impressive) Rückverzauberung series, Narkopop II shows just as Narkopop VIII and IX (both as uncanny as of unreal lucidity) an addition to the GAS concept, a more orchestral symphonic element of immaterial strings following a process that began with Pop towards a, compared to Zauberberg and Königsforst, more transparent sound. There's a crack in everything, that's how the light gets in, even in GAS.

Narkopop VI is another stunning work. Beatless, quiet, with whispers of Japanese wind chimes and effortless strings whirling like the low hanging clouds that soak the mosses and ferns in Yakushima rain forest, it doesn't recite myths, it creates its very own. Otherwordly, sublime, soothing.

However, it actually doesn't make too much sense to pick out single tracks, the whole album is very much one transcendent entity (and should be listened to in full). Sometimes you might feel uncertain and lost in the immense dimensions of Narkopops landscapes but never mind the scars, carry on and you'll be able to experience a beauty you never experienced before. And in the end there comes Narkopop X, a huge equalizing machine stoically marching forward on the deepest bass line you'll find, unaffected by all things trivial, sweeping away emotions, identities and stuff, leaving you behind completely dumbfounded. This music doesn't ask and doesn't answer, it's not 'taking you on a trip' as electronic music in clichés tend to do. Narkopop exists in its own spheres whether you're aware or not, whether you're listening or not and it's the biggest thing, not just in techno, not just in music. The biggest thing.

So this is it and next time at Starbucks when you're about to get yourself a cappuccino and a bagel, think about getting Narkopop for the money instead. It's worth it.

Written by João Geck
Interview with GAS: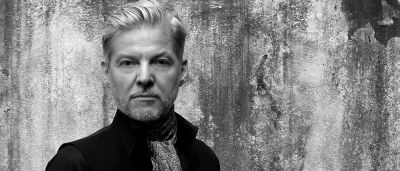 Q: It's quite an obvious question but with the last GAS album Pop being released 17 years ago, what made you release Narkopop now?
A: The reason was that the time had come. Originally I planned to produce/release Narkopop already in 2001. But then I concentrated more and more on building up our company Kompakt for a few years. In 2008, after the GAS re-release Nah Und Fern came out, I started working on it again but all ambient music I produced at this time was much more abstract, atonal, arty which was leading to my "GAS follow-up project" Rückverzauberung. After the GAS BOX last autumn the feeling and the time was right to finalise Narkopop.
Q: In the late nineties you explained the concept behind GAS as an idea of creating a genuinely German music, inspired by German forests, sampling German music(classical music as well as Schlager and Marschmusik). Does Narkopop follow that path and how maybe did your own perception of GAS change?
A: GAS still follows deep and dark forest fantasies, as well as classical music aesthetics, but these don't have to be necessarily German.
Q: With Narkopop you (thankfully) didn't try to invent a totally new sound or style for GAS but it definitely adds something to the GAS universe. What would you say characterizes the sound of Narkopop compared to the other GAS records? And do you see GAS more as a process of development or an (expanding) entity?
A: Normally I'm always driven by the artistic idea to invent everything new. With GAS I learned in a very positive way, that this sound is so very unique and it's linked to a huge promise to the people who followed it over the years. With Narkopop I tried to continue exactly where I stopped 17 years ago. I wanted to pick up the spirit of the original nineties albums and transform it into a less hermetic and much brighter sound cosmos.
Q: The first four GAS albums were released in a quite short period of time from 1996 to 2000 and, though very well-received at that time, their relevance as well as the dimensions of adoration since then spectacularly increased. Back then, were you aware of the even for your work outstanding impact GAS would have? And on the other hand how relevant is this impact for you?
A: You never know this before it happens. In the beginning I was surprised about the huge impact it had and how much people were reading something in between the musical and visual lines. Within the years I learned to understand that many people were actually really getting it. This is the biggest compliment and the best feedback an artist can get for his work.
Q: Do we have to wait 17 years again?
A: No
Thanks a lot! Questions by João Geck.