Second Circle is not only the little sister (or brother) of the Netherlands' rightly famous label Music From Memory (that gave us so much great compilations and re-releases such as the remarkable Outro Tempo: Electronic And Contemporary Music From Brazil 1978-1992 recently, excellent songs from one of the more unknown eras of brasilian music) but also well known for its own style of rich, kind of tropical House Music so after we had a look at their latest release (Dazions Don't Get Me Wrong) we asked the guys a couple of questions and also put on Tornado Wallaces record for Second Circle again, just because it's so good.

Tornado Wallace, the Australian maestro who, for some reasons, moved to Berlin some years ago seemed a quite obvious choice for a release on Second Circle and Falling Sun definitely proves that: three tracks in special if not unique Tornado style, percussive and gleaming, containing just the right dose of Balearic elements to keep it all beautifully easy and yet the groove groovy. "Falling Sun", the first track, starts on tribal percussions and then evolves, with the most seductive keyboards floating in and, though the track never explodes, never culminates, there's always enough tension in this elaborated work to keep the listener as spellbound as carried away. Same goes for the listener of "Singing Planet". "Singing Planet" also has these tribal bongos but they're a little tighter now, rolling and kicking, and capped by a hypnotically simple melody that seems to be straight from Popol Vuh soundtrack work for Werner Herzog. Third track "Kakadu" (the hit) also has some lush synths to offer. Ambientesque in the beginning, after a while the bongos take over and it all starts to swing. Dense atmospheric stuff with screaming seagulls on top. What a strong release!

Written by João Geck

Interview with the label Second Circle. Questions by João Geck.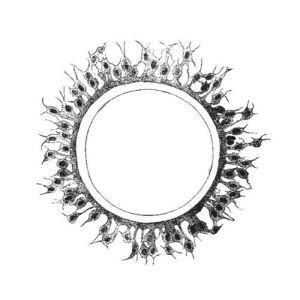 Q: You run Second Circle since 2014 now, what would you say is the general idea behind this label? And, as it happens to be a sub label to Music From Memory, what's the conceptual connection between the two labels? If there's any, that is.
A: The idea behind starting Second Circle is that we wanted to do something with Deep House / Electronic music. There's a lot of interesting music being made nowadays; it's a special time for electronic music again we feel, especially for music more geared towards the dance floor. We know quite a few people that are involved in making music and some of the tracks we got to hear was stuff that we thought would be cool to get out on vinyl. There's not so much a concept behind Second Circle; it's just music that we can imagine ourselves playing out, that's also how it connects with Music From Memory albeit in a different setting.
Q: Don't Get Me Wrong by Dazion is your latest record and it's a quite remarkable one, with flawless vocal electro pop on it. Who is Dazion and how and why did you get his tracks for Second Circle?

A: Cris Kuhlen is from The Hague. We got to know him through a mutual friend. Cris is a graphic designer and sometimes works in Amsterdam. We got to hang out at Red Light Records and learned that he also made music. After hearing some of it we were completely blown away so we were very happy when he said "yes" to doing his first 12″ release with us.
Q: Most of the releases on Second Circle have this kind of tropical, sometimes psychedelic feel in common. Would you say that there is a trademark label sound? And how do you choose the music you want to put out on Second Circle?
A: We're coming up to our sixth release and so far I feel the output on the label has been quite varied; in that sense it's hard to talk about a trademark sound. It's also not something we aim for, as long as it's electronic music with a profound musical sensibility it can be anything. One of us normally comes across something we all really like. We then soak up the music as much as we can and try to come up with the best possible way to present it.
Q: What will happen on Second Circle in the future? For example, what will be the next release?
A: We've got a few more releases lined up this year. The first one will be a six- track 12″ by Swiss artist Androo.
Thank You!