Aaron FIT Siegels label FIT Sounds is worth having a close look at for almost ten years now so I had a look at the back catalogue checking out some amazing tunes. I could have picked out some more as there's quality all over the place but here we go.
The first one is "Carmine" by FIT Siegel himself, a two -track release from 2015 you'll mainly remember for the track "Carmine" that thrilled more than some people then and actually became some kind of classic. And it's a classic quite rightly, "Carmines" distant and subtle harmonies and the hardly mid-tempo but still energetic beats form a gesamtkunstwerk expressing the beauty of longing for something but you don't know for what. "Carmine" has this glowing (not to be confused with coziness and things like that) in its synths and strings that always has been one of the big things about Detroit techno. Imagine driving through Detroits dark snowy streets, feeling melancholic or lonely or both but also the warmth deep inside knowing: not all is lost, even if the winter is colder than usual. Great, touching music.
"First Found", the flipside, is quite different but also very good, a jazzy piano freestyles over an full throttle up tempo groove that really has the swing that makes you wanna try out some more complicated moves on the floor.
Also a very interesting FIT Sounds-release is the latest one, the (beautifully named) "Converse" EP by Bill Converse. With this EP Texan Converse (who released most of his stuff on Dark Entries) goes for the dry rattling acid sounds and he succeeds, you could say. "Detection" is the perfect warehouse rave monster you need when the strobe lights start, fierce, intense and strictly underground. "Pinions" comes up with dark twisted dub elements while "Shucks" sounds are on the verge of disintegrating, claustrophobic and intense. Uncompromising tunes for people who know.
One of the best releases on FIT Sounds is actually the first one (an opinion shared with FIT Siegel himself as you can read in the interview below), the "Erase The Pain EP" by the great Marcellus Pittman. "Sync" and "Illa 5 Ela" both have a certain Detroit touch, yet they head in different directions, the former with metallic clanging and a bubbling bass, the latter tumbling around a Patrice Rushen sample. Remarkable music indeed but the thing is "Erase The Pain" itself with its masterfully stuttering grooves, the raw 303 throbbing and not much more. Pittman gets so much from so little it's simply amazing, the whole construction in its (in a way) simplicity appears as avant-garde and strange as hell (in a way), still it's a perfectly grooving club track (in a way). A true master at work. So this EP from 2010 is still a hot thing for sure, as good in 2018 as it was in 2010 and sure will be in 2040. Purest timeless Detroit Sound from a decent Detroit legend.
Reviews by João Geck
FIT Siegel about his label, Pittmann & Shake and the future. Questions by João Geck.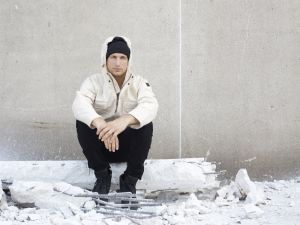 You started your label FIT Sound in 2010. What have been your ideas and goals (music- and businesswise) when you started? And (how) did they change over the years?
The ideas have not changed much since day one - which was to release music that I found special / music that was a bit different then the rest, specifically "dance" music. Businesswise like any other company we just want to be able to continue doing what we love which is making music and making records.
The FIT Sound back catalogue is really impressive indeed, are there any releases that have a special meaning for you or that you're especially proud of?
Thank you, I would say it was the first one, Marcellus' record. Not only because it the first one, but because it was such a great combination of strange and mysterious tracks. The perfect record to launch the label. Another special one is Shakes record. Those tracks were rescued from some damaged tapes, which I had to edit to restore. The track "Frayed" was from a DAT that was actually frayed. That is a very special and emotional track, and otherwise would have lost to the world of unreleased tunes. It was too beautiful to never have been heard.
In a way FIT Sound seems to be quite a "Detroit thing" but on the other hand also open minded (with Russian OL or the musically different Golden Mean on board). How important is Detroit, both the city and the sound, for you and the label?
The label is just based on the tracks I want to put out and artists I want to work with. I don't care if they come from Detroit, Albania or Africa, if it is a hot track, I'm with it. As far as Detroit goes, well, I suppose it just naturally has some affect to the labels sound or aesthetic. It can be a pretty strange and grimy place and I'm attracted to some strange and dirty sounding shit.
And of course: what are your future plans with the label and your own stuff?
More music. And definitely more of my own music - the first of which is an EP with Kassem Mosse coming in early 2019. Stay tuned...