In 2016 Dutch duo Weval made quite an impact with their self-titled first album, their second album "The Weight" now shapes and expands their sound & vision that's hard to actually name if you feel the need to categorize but (certainly more important) is distinctive and ready for exploring.

For the thirteen tracks of "The Weight" Weval chose them not to be too obvious in both composition and atmosphere. The melodies are not catchy in the first place, they don't scream in your face, so the listener necessarily has to put a little effort in understanding the well-build structures and the power and deepness that lies within (similar to Huyghends excellent 2018 album "H1"). The records' first (and title) track illustrates this quite well, there's slowly increasing tension, the groove is tight and solid yet the bass has its playful moments, the vocals (the guys singing themselves this time) add an ethereal pop moment and in result the whole song is both serene and enthusiastic. Same goes for the haunting beauty and trippyness of "Silence Of The Wall" and "Look Around" that's a little Massive Attack but without the theatrical heaviness. On "False State Of Mind" the creeping grooves get if not counteracted then illuminated by the singing and wild synths, bassy and glittering. Thankfully "The Weight" always has its uplifting moments, such as the odd funkiness and minimalistic swing of "Heaven, Listen" and its quite surprising ebbing and swelling.

The idea of putting together different layers of moods and sounds while still creating a coherent whole indeed characterizes Wevals work and while this approach may be not without the risk of in the end weaken all elements, the duo has more than enough skills and, well, artistic vision to get away with it.

"The Weight" comes via Kompakt (as the debut did), which perfectly makes sense as the Colognians paved the way for music like this for a long long time, electronic music with a pop heart that comes in all kinds of shapes, some of them unexpected.

Written by João Geck


Interview with Weval. Questions by João Geck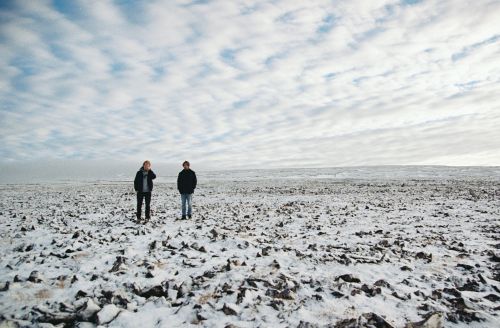 Q: The music on your (impressive) new album "The Weight" isn't that easy to categorize and appears as quite eclectic. What were your general ideas and inspirations for creating this album?

A: First we had in mind making the record more of a trip with a few 'songs' that would have more momentum. But while writing so many ideas arose, we realized we lost that a bit. The spontaneous positive feeling, not judging too much when writing, thick sounds, cheap sounds, it felt more joyful than ever this time.

Q: I just called it eclectic, on the other hand "The Weight" sounds very homogenic in itself. As you're a duo, how do you work and how do you get it all together?

A: It's different a lot with each track but quite some songs we wrote together in the studio, and sometimes separately from home. New for us was to record with our band members. We recorded everything separately because we really wanted to mess around with the recordings. Some of the things they played are really a backbone of the track though. For example, drummer Nicky Hustinx, played a really long take with only a click track and we build "Silence on the Walls" and "Look Around" around this one take. It was just a jam, but he really did something special we think, we got a lot of creative energy from that take.


Q: Compared to your first album for "The Weight" you didn't totally change your style, yet to me the new album is deeper and richer in its both sounds and expressions, in a way there's more of a certain pop appeal. Would you agree? And how do you see "The Weight" in relation to your earlier stuff?

A: It's a nice compliment we think! Besides the fun and the spontaneity we mentioned, a big change was the fact that we started to sing ourselves. This opened a totally new way of composing and producing for us, it for example entailed that we could write more lyrically. This kind of composing was very challenging but it was a step we wanted to make. We hope to keep on developing ourselves and never let earlier stuff be in the way of something new.
Q: I really like the records' artwork. Who did that and why did you choose it?

A: Thank you! Mila González made it. Finding an image is quite intense, to give it such a visual conclusion. Also because the record has so many sides. Apart from just the look, this images appealed to us because it has this nature element with this artificial plastic f*cked up thing in it.

Thanks a lot!